Luisa S.

Tags:

Acqua e Farina, Cheese, Food, Gourmet Escapes, Italian Recipe, Italy, Lazio, Pasta, Pasta Recipe, Pecorino, Rome, Tonnarelli, Traditions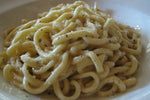 Cacio e Pepe is simple and delicious Roman dish, an old favourite on the menu of Rome's traditional osterie and trattorie. It is pure comfort food, perfect to make in a while. When we want a tasty but light pasta, this is often our preferred choice.Grated Pecorino Romano, a plenty of freshly cracked black pepper and original Italian pasta are all that you need in this traditional Roman recipe.In real Rome, Cacio e Pepe is rigorously served with Tonnarelli a square-cut pasta. The tool used to cut tonnarelli is called guitar and gives them one square thickness and a porous...
---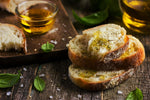 There is nothing better than smell the scent of freshly baked bread, for me a symbol of what is familiar and good in the things of the world.In Italy there are countless idioms that concern the goodness of bread and its essential presence on the tables – "You're as good as bread," "To sell like bread," "For kings, there is no tastier food than bread", and many funny others. At Our Home bread is composed of wheat flour, obtained by a milling process made by traditional methods: the oilseed and protein parts are not brutally separated from the starch, but,...
---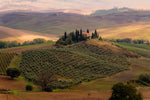 Thinking about Italy means thinking about Tuscany. The sinuous rows of cypresses, medieval towns clinging fast to the summits of gentle hills, endless vistas of cultivated fields. IS THE MOST ICONIC LANDSCAPE IN THE WORLD.  In June the grass undulating in the warm late-spring wind like acres of emerald silk and in summer the hills are burnished gold, pollen in the air casting the late-afternoon sun in an iridescent haze. But in autumn and winter Tuscany undergoes an identity shift. The color palette shifts to bright green, cafes are filled with locals instead of turists, cypress trees creaked, ripe persimmons swayed soundlessly from bare branches and ...