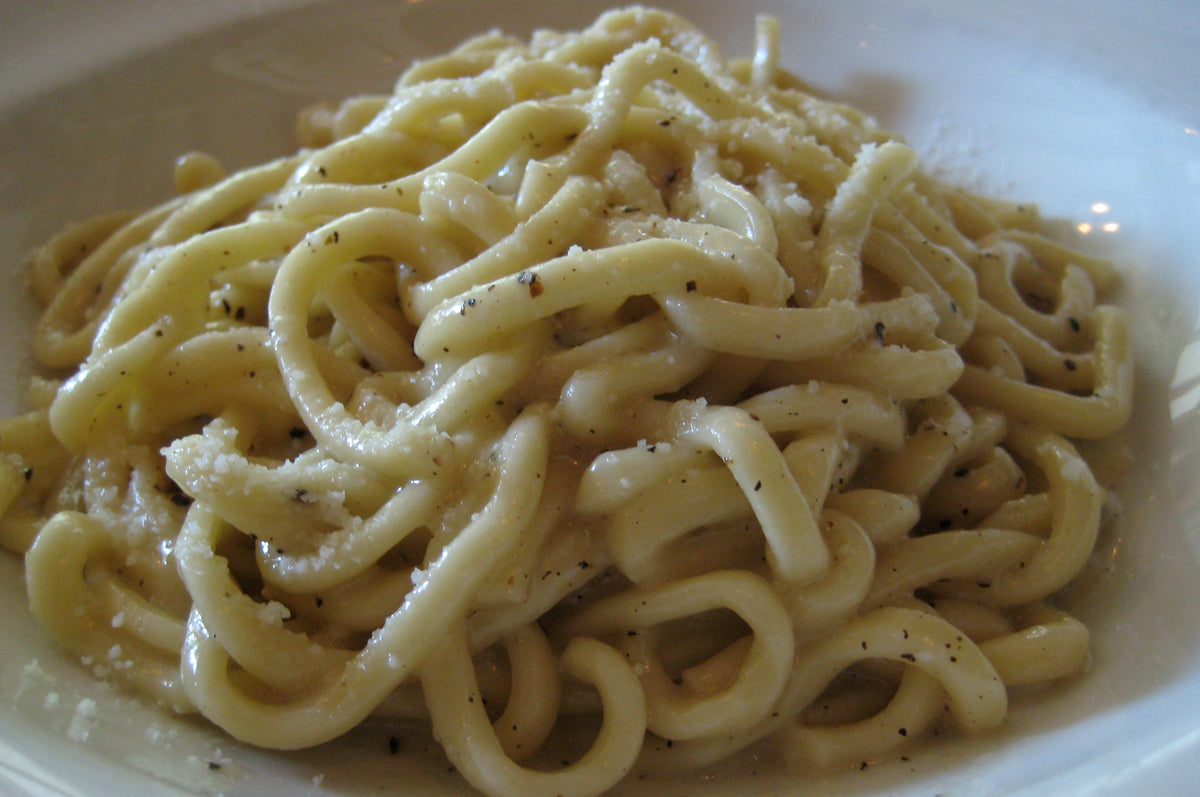 Cacio e Pepe is simple and delicious Roman dish, an old favourite on the menu of Rome's traditional osterie and trattorie. It is pure comfort food, perfect to make in a while. When we want a tasty but light pasta, this is often our preferred choice.
Grated Pecorino Romano, a plenty of freshly cracked black pepper and original Italian pasta are all that you need in this traditional Roman recipe.
In real Rome, Cacio e Pepe is rigorously served with Tonnarelli a square-cut pasta. The tool used to cut tonnarelli is called guitar and gives them one square thickness and a porous texture allowing a perfect match between pasta and Cacio e Pepe sauce, so that your teeth and tongue can liberate the flavor caught on the surface.
Beautiful in its three-ingredient simplicity, cheap and quick to put together -but Cacio e Pepe is very easy to get wrong. It requires the right method to prepare it well. In a well-executed Cacio e Pepe, the Pecorino will turn creamy and smooth, coating the Tonnarelli perfectly. The secret is the pasta cooking water.
So first of all don't skimp on quality: make sure the black pepper is fresh and use only freshly grated aged Pecorino Romano.
TIP #1: if you can't get fresh Pecorino Romano, you can replace with Parmigiano Reggiano. It will lacks Pecorino's distinctive tang, but will be delicious too.
TIP #2: The original Cacio e Pepe does NOT  have: Extra virgin olive oil, Butter, Milk, Parmigiano Reggiano
And now, the featured recipe.
INGREDIENTS (4 PEOPLE)
• 400 grams Tonnarelli Acqua e Farina
• About 200/250 grams authentic Italian Aged Pecorino Romano
• Fresh Black Pepper, better if coarsely crushed in a mortar
• Salt to taste
Set a large pot of water on to boil over high heat. Salt the water. In the meantime grate Pecorino Romano in a fair sized bowl and add lots of freshly cracked black pepper. As soon as the pasta water is boiling, add the Tonnarelli Acqua e Farina.  Drain it when al dente (2 minutes less than the recommended cooking time) using a ladle with holes in order to retain a little of the cooking water rich in starch (the pasta releases starch into the water, it is naturally sticky and helps Pecorino Romano cheese fats to amalgamate with Tonnarelli) . This is a very important step in order to get a creamy sauce: place the pasta into the bowl with Pecorino Romano and  black pepper and immediately add a ladle of cooking water. Mix quickly so that the cheese melts in the water, adding more water if necessary. Tossing vigorously until you get a creamy consistency. If the sauce becomes too watery, add Pecorino Romano cheese; if it becomes too dry, add water. Serve immediately preferably on warm plates, and season with ground pepper. Fatto! That's it.
"THE MOST BASIC ITALIAN PASTA, BECOME A TREND. WHY? BECAUSE WHEN MADE RIGHT IS INCREDIBLE"
WINE PAIRINGS:
White: Alto Adige Chardonnay
Red: Rosso di Montalcino