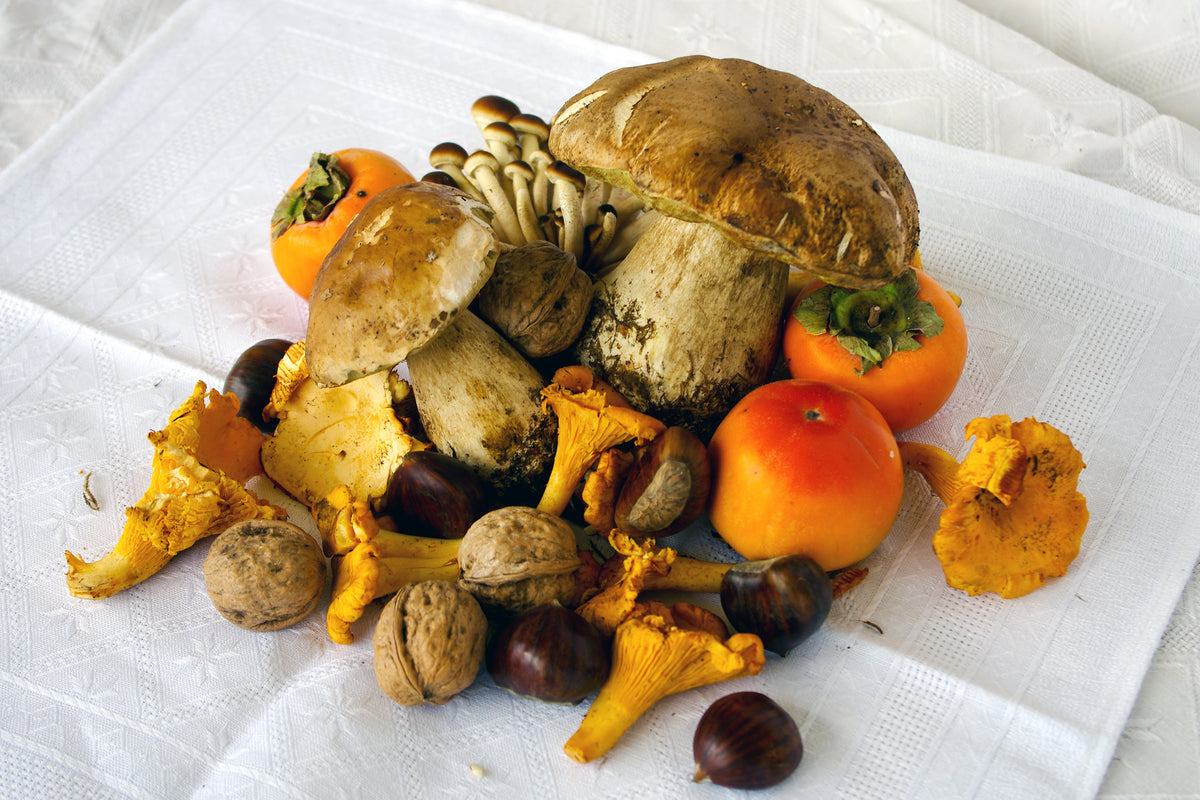 If you ever had the chance to take a ride in the Umbria region – the Italy's green heart – during autumn, don't miss to sitting in the rural atmosphere of one of its taverns and taste a delicious Umbricelli pasta dish.
Umbricelli are a poor origins short lengths of pasta made with only water and wheat flour, it has been rolled across its width, with each side rolled in the opposite direction. The rolled length is then slightly twisted.
October is one of the tastiest culinary seasons in Umbria and with the beginning of the rainy season, mushrooms are popping up all over. When the ground is still soft from recent rains, we take to the woodlands with baskets to search for Porcini mushrooms, the celebrities of Italian cuisine. They hide in the darker fissure under leaves and with their deep earthy flavor are the perfect combination with Umbricelli.
So let'go, it's cooking time!
INGREDIENTS (4 PEOPLE)
• 400 grams Umbricelli Acqua e Farina
• 500 grams Fresh Porcini mushrooms
• 50 grams butter
• 35 grams Extra Virgin Olive Oil Acqua e Farina
• 500 grams Fresh Porcini mushrooms
• 1 garlic clove (peeled)
• salt and pepper to taste
• parsley
Clean the dirt off the Porcini mushrooms, scraping them lightly with a knife (you can use a small brush to remove any soil), then rub them with a damp cloth and slice them up thinly. It would be better not to rinse with water, given that the fungus absorbs it. Put water on to boil for the pasta and add salt. Heat two spoonfuls of Extra Virgin Olive Oil Acqua e Farina  in a large pan and add the garlic clove and sauté until golden and fragrant. Add the Porcini mushrooms, salt, pepper and cook for about ten minutes uncovered, stirring frequently. Remove the garlic from the sauce, add a large tuft of parsley diced up but not finely, and a pad of butter. In the meantime, cook the Umbricelli leaving them al dente and remove a glass of the pasta cooking water to be used later. Drain and add the pasta to the pan with the Porcini mushrooms and butter. Toss everything together.
TIP #1:  The pasta absorbs liquid very quickly so if it looks too dry, add a little of the pasta cooking water at a time until you get the right creaminess.
TIP #2:  In Italy it is not recommended to serve this dish with grated Parmigiano Reggiano as the aroma of the cheese could overpower the perfect smell and taste of the Porcini mushrooms.
"BOLETUS EDULIS IS ONE OF GOD'S GREAT GIFTS TO HUMANITY"


WINE PAIRINGS:
White: Langhe Chardonnay
Red: Alto Adige Pinot Nero