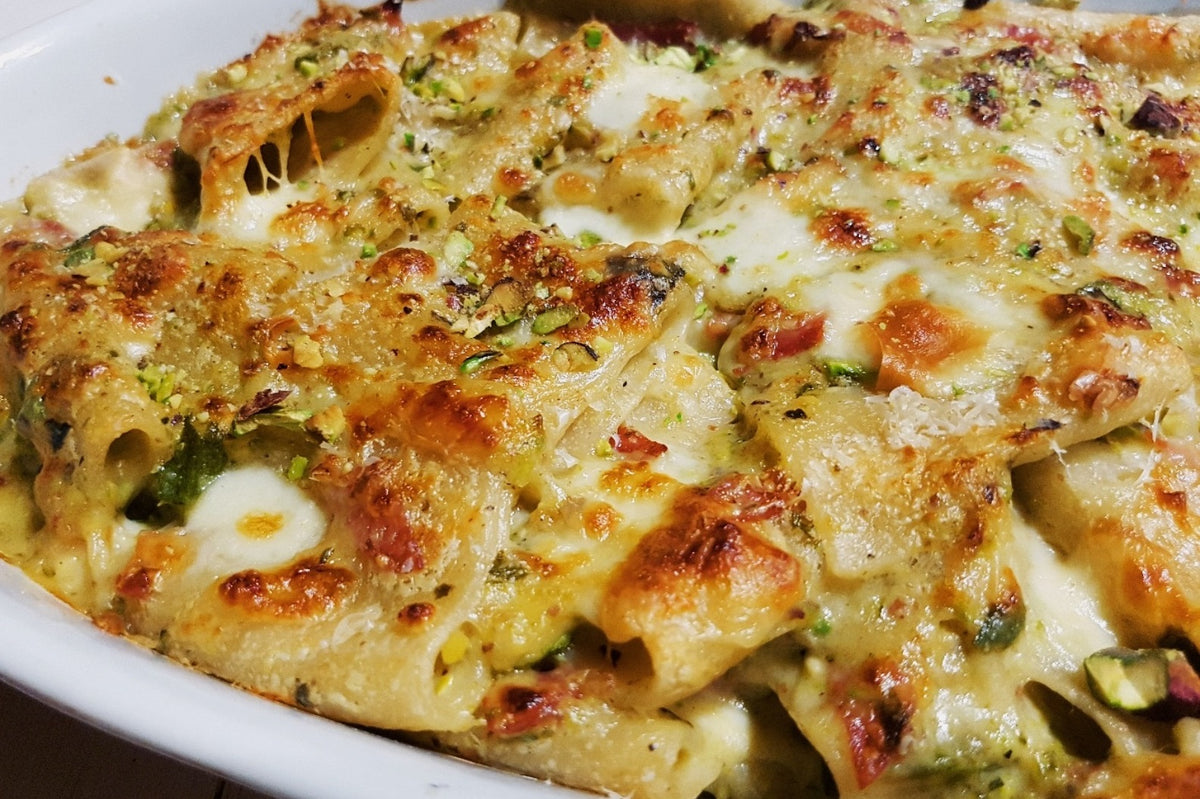 Is there anything more comforting than a cheesy, hot, gourmet baked pasta?
"Pasta al forno" or Baked pasta goes well any time of  the year; Italian grandmothers know this well and often delight with these recipes in the oven especially on Sunday.  Not only can it be made in advance, once baked, this pasta will sit patiently, which is why it is such a trusted one if you are planning to feed a large number, the baseline to a buffet that might roll on and on.
Compared to the traditional 100% basil pesto this recipe is more delicate and lighter thanks to the sweetness and texture of the zucchini.
So Try it! This  Italian  baked  pasta dish will become one of  your family favourites.
TIP #1: Be sure to taste every single component before combining them and sticking the pan in the oven. Sauces should be well-seasoned, but not overly salty, also consider the fact that Italian Scamorza Affumicata  and Parmesan definitely has a salty flavor. Taste everything and adjust accordingly.
TIP #2: the last portion of pasta, eaten a few hours later straight from the dish, is possibly the best.
INGREDIENTS (4 PEOPLE)
• 500 gr Acqua e Farina Paccheri
• 650 ml whole milk
• 450 gr fresh zucchini
• 220 gr Italian Smoked Scamorza cheese
• 100 gr  Italian Speck sliced
• 70 gr corn starch
• 60 gr pistachios
• 30 gr di Parmigiano Reggiano grated
• 20 gr fresh lemon juice
• 30 gr butter
• 30 gr Acqua e Farina Extra Virgin Olive Oil
• Salt
• Freshly Ground Black Pepper
The first step in preparing Baked Paccheri with Zucchini Pesto, Speck and Smoked Scamorza  is to wash and trim the zucchini, then cut them either into slices. Line up the zucchini slices on a baking sheet (with parchment paper)  tightly next to each other in a straight line, making sure not to overlap them. Lightly season with oil, salt and pepper and bake at 180 degrees for 20-25 minutes.
Cut the zucchini slices into small pieces and place them in a food processor with pistachios, Acqua e Farina Extra Virgin Olive Oil, salt, lemon juice and 60 gr water. Whiz until smooth…here is your zucchini pesto!
Cut the Italian Speck in slices or strips and fry them in a pan until crispy.
Cut the Italian Smoked Scamorza cheese in half, remove from one half the smoked skin and grated with a grater with big holes.
Heat 500 ml milk in a pan with salt and pepper; dissolve the corn starch in other 150 ml milk and add it to the boiling milk. Whisking continuously, cook for 1 minute until very smooth, add Parmigiano Reggiano and turn off.
In the meantime cook Acqua e Farina Paccheri in salted boiling water. Do not cook them fully but leave them quite "al dente", drain them well and mix in a big bowl together with  pesto zucchini, milk cream, crispy speck and Smoked Scamorza cheese.
Transfer the pasta into a baking pan, a little bit greased with butter, add more grated Scamorza Affumicata cheese and Parmigiano Reggiano on top and bake it at 200º for about 30 minutes or till you get a golden grated top.
Let cool for 5 or 10 minutes before slicing, this will give the sauce a chance to settle into the nooks and crannies of your pasta.
WINE PAIRINGS
White: Vermentino di Gallura
Red: Chianti dei Colli Senesi