Luisa S.

Tags:

Acqua e Farina, Cheese, Food, Gourmet Escapes, Italian Recipe, Italy, Lazio, Pasta, Pasta Recipe, Pecorino, Rome, Tonnarelli, Traditions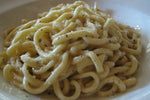 Cacio e Pepe is simple and delicious Roman dish, an old favourite on the menu of Rome's traditional osterie and trattorie. It is pure comfort food, perfect to make in a while. When we want a tasty but light pasta, this is often our preferred choice.Grated Pecorino Romano, a plenty of freshly cracked black pepper and original Italian pasta are all that you need in this traditional Roman recipe.In real Rome, Cacio e Pepe is rigorously served with Tonnarelli a square-cut pasta. The tool used to cut tonnarelli is called guitar and gives them one square thickness and a porous...
---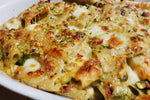 Is there anything more comforting than a cheesy, hot, gourmet baked pasta? "Pasta al forno" or Baked pasta goes well any time of  the year; Italian grandmothers know this well and often delight with these recipes in the oven especially on Sunday.  Not only can it be made in advance, once baked, this pasta will sit patiently, which is why it is such a trusted one if you are planning to feed a large number, the baseline to a buffet that might roll on and on. Compared to the traditional 100% basil pesto this recipe is more delicate and lighter thanks...